A campsite with a water park in the Var
Taking the time to refresh yourself? Our campsite with a water park in Hyères delights young and old alike. Everyone enjoys the many facilities: toddlers can splash around in the pool and in the paddling poolchildren and teenagers slide into the big slide or the fast riverthe parents sunbathing on the deckchairs or bubbling in the jacuzzi. There's something for everyone to agree on for your holiday at our campsite in the Var !
Choose a stay in the Var with all the family at a campsite with swimming pool. The campsite's water park in the Var offers safe areas for children with a swimming river, pontoon, water games and giant slides in a green environment.
The water park is accessible for swimming with a bracelet which is provided to you on arrival at the campsite with swimming pool in Hyères for a safe stay.
And yes gentlemen, sorry we know you don't like it at all, but for hygienic reasons, lycra swimming briefs are highly recommended. Shorts and swimming trunks are permitted provided they are for swimming in the pool only (excluding beach and salt water).
Unique moments await you at the campsite's swimming pool, because we take care of everything… Toddlers can splash around (with their parents of course) in the paddling pool, an aquatic area adapted to the youngest.
The older children (those who can swim) go from pool to pool, wading in the different pools, passing under bridges, under waterfalls, having fun in the rapid river, but above all, what they like most is the huge slide of the water park, over 44 metres long.
Meanwhile, parents, grandparents, uncles and aunts, in short: the older ones, can bask in the sun, bubble in the jacuzzi, take a dip in the main pool of the 4-star campsite in the Var…
With over 300 days of sunshine a year, there are few days when you can't enjoy the water park! It's almost like being on a remote island with all those palm trees (we're just exaggerating a bit).
There is plenty of entertainment by the campsite's swimming pool, and on Wednesday evenings it's pool night! Children and adults can continue to enjoy the water park until 22:00.
As for safety, the park is supervised by qualified lifeguards, who are present every day during the pool's opening hours (only in July/August). The lifeguards are there to intervene in case of problems in the water park: however, we ask parents to supervise their children and make sure that they respect the safety rules and their friends!
Everyone can enjoy the water park with its 600m² of space thanks to a hydraulic wheelchair that we make available to people with reduced mobility.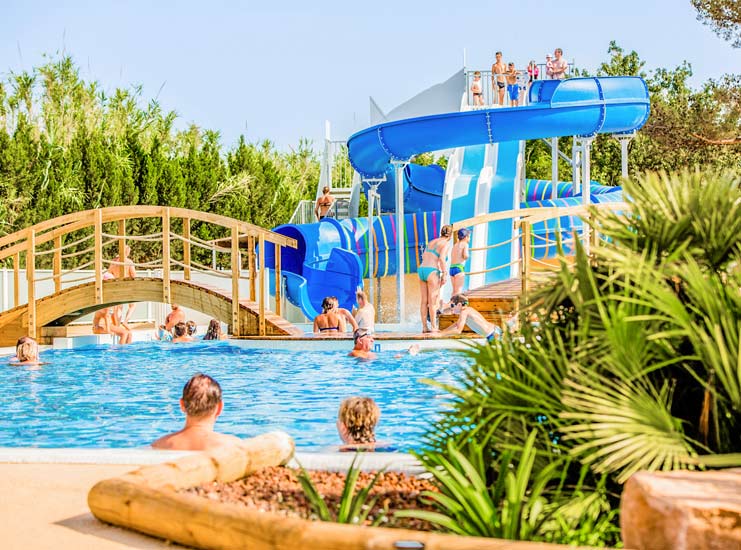 Entertainment, children's club and walking activities