MOBILE HOME RENTAL ON THE FRENCH RIVIERA: TAKE YOUR HOLIDAYS IN OUR CAMPSITE TO DISCOVER THE PACA REGION
Let yourself be tempted by a mobile home rental on the Côte d'Azur, the region will do the rest
Start by reserving your mobile home with all the comforts you desire and once you arrive at our campsite, we will guide you to discover our beautiful French Riviera.
In any case, whether you have a mobile home or a pitch, the Port-Pothuau campsite is an ideal starting point to discover the most beautiful sites of the French Riviera.
From Hyères to Saint-Tropez, the French Riviera offers unique and contrasting landscapes of sea and mountain, you will find the most beautiful sandy beaches of Provence Alpes Côte d'Azur and southern France.
Just a few minutes from your holiday destination with the whole family, take the time to enjoy relaxing walks through charming villages, lazing around and snorkelling in wild coves, or taking part in exciting water sports.
Hyères offers a privileged setting for kitesurfing, wing-foil and you can even enjoy parasailing for a unique view of the coastline.
Would you like to prepare your trip to the Côte d'Azur in advance?
In that case, here are a few places you should not miss during your stay. Many trips can be made from campsite Hyères You can reach the coves of Bandol in 35 minutes, the village of Bormes-les-Mimosas in less than 20 minutes, the Golden Islands (Porquerolles, Port-Cros and Le Levant), the villages of Saint-Tropez and Ramatuelle in 45 km, or the picturesque and unspoilt village of Saint-Mandrier in less than 40 km on the other side.
Ideally situated in Hyères opposite the islands of Porquerolles, Port-Cros and Le Levant, the Port-Pothuau campsite is only a few minutes away from the fort of Brégançon, Cap Bénat and Le Lavandou.
The lively seafronts of Fréjus and Saint-Raphaël can be reached in about an hour and will give you a wonderful holiday by the Mediterranean. But if you prefer to stay in the mobile home you rented for your holiday, you have the right. 😊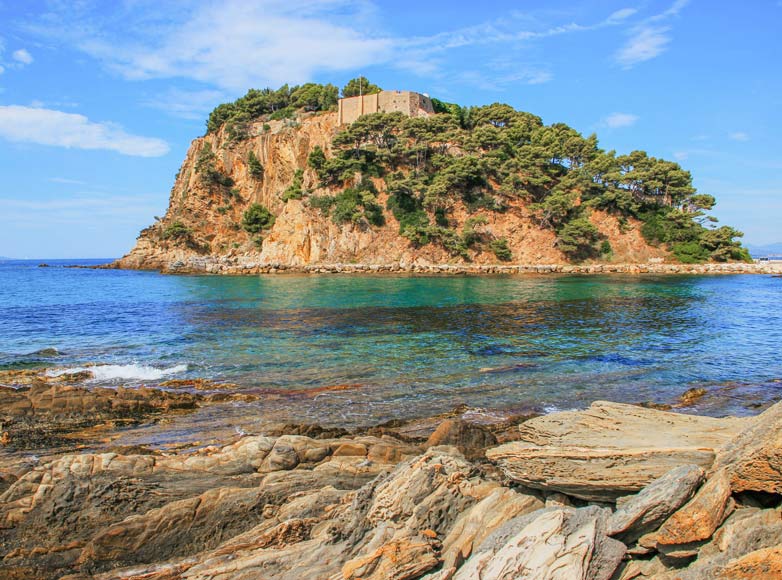 Discover Hyères, the underwater trails and the beaches